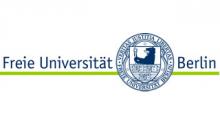 Institut für Englische Philologie Habelschwerdter Allee 45 14195 Berlin
Freie Universität Berlin is a full-spectrum university, comprising twelve departments and three central institutes that together offer more than 150 different academic programmes in a broad range of disciplines in the humanities, social sciences, and natural sciences. Its scholars and scientists identify and work on socially relevant global issues that will affect our future. With this aim in mind, they work together as part of academic networks with regional, national, and international partners from all sectors. The Institute of English Language and Literature offers various programmes on all levels, including courses in English literature, culture, linguistics, and didactics. Teaching and research is particularly strong in the field of early modern English Literature and Culture. The Institute has a very international student body from all over the world, particularly on MA and doctoral level. It also welcomes, every year, a large number of Erasmus students.
Die Freie Universität Berlin ist eine Volluniversität mit zwölf Fachbereichen und drei Zentralinstituten und bietet insgesamt mehr als 150 Studiengänge in einem weiten Fächerspektrum von den Geistes- über die Sozial- hin zu den Naturwissenschaften. Die Arbeit der an der FU tätigen Wissenschaftler/innen dient vor allem den gesellschaftlich relevanten globalen Fragen der Zukunftssicherung. Vor dem Hintergrund dieser Zielsetzung stehen insbesondere vernetzte Vorgehensweisen im Verbund mit regionalen, nationalen wie internationalen Partnern aus allen Bereichen im Zentrum. Das Institut für Englische Philologie bietet  auf allen Ebenen Studiengänge in Englischer Literatur und Kultur, Englischer Sprachwissenschaft und Didaktik. Ein besonderer Schwerpunkt in Forschung und Lehre liegt in der Frühen Neuzeit. Das Institut ist auf studentischer Seite, insbesondere im MA- und Promotionsbereich, stark international ausgerichtet. Überdies nimmt es jedes Jahr eine große Anzahl an ERASMUS-Studierenden auf.
Definition of « Crisis » in German:
Krise (f.)  Störung (im Wirtschaftsleben), Zusammenbruch (einer Hochkonjunktur: Wirtschafts-); schwierige Zeit, Schwierigkeit (Ehe-); Entscheidung, Höhepunkt, Wendung; <Med.> Krisis, Höhepunkt (einer Krankheit); eine - durchmachen; politische, wirtschaftliche - [< griech. krisis "Entscheidung, entscheidende Wendung"].
(Wahrig, Deutsches Wörterbuch, s.v. 'Krise')